1 Download installer by clicking on the button on the right (Please select the correct version for your Outlook).

Current Version: 4.1.7213 Release Date: 08-OCT-2019.

NOTE: The Installer file installs BOTH EmailMerge and EmailCaddie so that you are able to track both normal and merged emails.

Supports Outlook 2007 and above, and Office 365 (32 & 64bit).
Download EmailMerge

Outlook 2007 & above, & Office 365
The Download button above (recommended) will download a file that works with both 32 Bit and 64 Bit versions of Outlook 2007 and above, and Office 365. You can also download a 32-Bit MSI or 64-Bit MSI installer.
2 Save the Installation file

You will be asked to save the file to disk. Choose Save File and the file will be saved to your desktop (or to the folder you set for downloads in your browser options).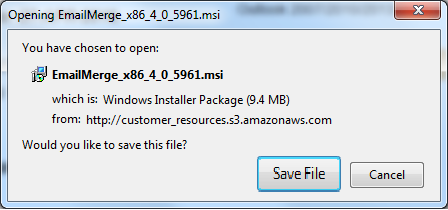 3 Run the Downloaded File

When the download is done, double-click on the downloaded file. Click on Run to open the EmailMerge and EmailCaddie Setup application to guide you through the rest of the installation.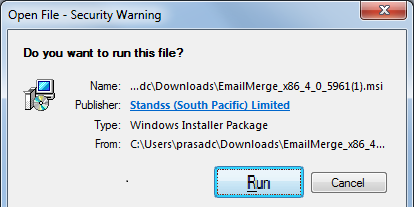 4 Start using EmailCaddie and EmailMerge for Outlook.

Open Outlook. You will see new buttons on the Ribbon for Email Merge and for Email Caddie (when you create or reply to an email).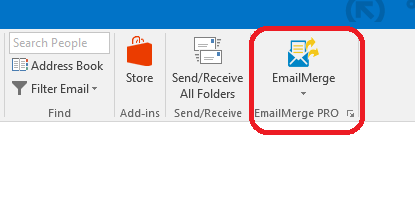 5 Watch the Getting Started Videos.

Click Watch Getting Started Videos to see easy it is to send tracked (and untracked) merges and emails with Email Merge Pro for Outlook.